In my store you will find many different handcrafted silk floral items.

* DECORATED GRAPEVINE WREATHS in many sizes...all handwoven by me every spring.

* DECORATED STRAW WREATHS...tell me your ideas and I will create it for you.

* SILK-LIKE PINE WREATHS...decorated for the Holidays in colors and styles to fit your decor.

* DECORATED GRAPEVINE TWIG SWAGS...bundles of grapevine twigs handtied into a unique looking swag.

* DECORATED EUCALYPTUS SWAGS...Fragrant branches handtied together to form a swag and then adorned with a special bow in your color choice.

* FLOWER POT GIRLS...Flowers with faces "planted" in a handpainted mini flower pot. Sure to put a smile on everyone's face!

* MINI METAL CANS...Brass, Antique Copper or Tin cans in several different styles. These will brighten up a small table or desk.

* BASKETS...several styles to choose from in many sizes.




Please visit my other webstore for knit & crocheted items for babies, kitchen, bath and home decor. Plus fabric photo ornaments that are sure to become family treasured heirlooms.




This is a wreath I designed for a customer. It is an oval grapevine, made by hand. A hand tied vertical twig swag hangs on each side. The flowers are Hunter green and Burgundy. The ribbon wraps and bow on the wreath are made from Burgundy velvet-like ribbon. The bows on the swag are made from Hunter velvet-like ribbon. Very elegant and rustic at the same time!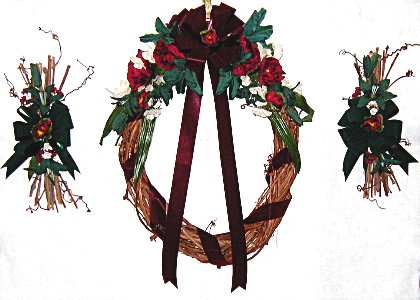 I have many styles to choose from. Come on in to the store and take a look around!